Welcome to Hangoutapps.com , the best place for apps:
Hangouts and 14 Other Apps you can use to Connect with People
Let's face it. All of us have mobile phones, computers (be it laptops or PCs) or some other technological device. There's no escaping it, so might as well join the fun and excitement. What good would these smart devices be without apps and different software? One such software from Google is Hangouts. It allows us to connect with people on the internet and those in our contact list.
Hangouts is a cross-platform text messaging app that ties in just about every Google account on earth. It comes standard on many Android devices and has the option of sending a text message to people in your list and circle. What's more, you can also connect it with Android as well as iOS. In addition to that, it has the ability to sync with your Gmail or Google+ account.
This nifty little app allows you to keep in touch with friends and family. You can start video calls and chat with relatives who are miles away from you and you're just aching to talk to them and see their faces. You can also have a team conversation with a number of people to come up with a plan for the weekend and or use it to communicate with co-workers.
It's not just words you can use to communicate with, Hangouts offers you different emojis, stickers, photos, maps, GIFs and more to express yourself. Your group chat can have almost a 100 people at maximum and you have the option to turn your conversation into a group video call with up to 10 members.
If you ever get bored of Hangouts, there are countless other apps similar to it that you can choose from.
Here are some of the more popular ones that we selected.
WhatsApp Messenger
This is a multiplatform messenger that is available for both iOS and Android devices. It is incredibly easy to use. You have the option to create a chat group that consists of many people whose numbers you have. You can share documents, texts, voice chats, pictures, emojis and videos on WhatsApp. You can use this to communicate with your coworkers during a project and share important documents in secret groups. The messages sent between these groups are end to end security encrypted so vital information doesn't fall into the wrong hands.
You just need to have an internet connection and voila, you can even call your friends and family members without having to spend your precious mobile credit. You can video or voice call whomsoever is in your list. Millions of people use this app every day.
Facebook Messenger
Facebook is perhaps the most prominent social media website in the world. They're present on iOS, Android, web, you name it. They have a messenger app that allows you to coordinate in teams and send each other messages and voice recordings. Aside from sharing YouTube videos, you can share different website links, videos, pictures, emojis, GIFs and a lot more. Moreover, you can also see when people have seen your messages. In groups, you can see who is online and who is not.
You can even see who has seen the messages that you typed and when. It even allows for video and voice calling in high definition and with great clarity. You can snap photos and save them on the spot, applying many different filters that make your features pop out or express how you feel.There are many stickers on the Facebook Messenger platform that allow you to do that as well.
Discord for Gamers
Gaming Community rejoice, Discord is here to stay. There are many YouTubers who are using this platform to create a more engaging channel. Whether it's playing one of your favorite games or watching funny videos that have been requested by fans, you can be on discord and get your people involved. It's fast, secure and can be used on your laptop, desktop, as well as your iOS or Android smartphone.
Best of all, it's all free. There are no slot limitations when you create your own server. Discord plans to offer exciting new stickers, sounds and themes, which you might have to buy, but as they claim, they'll never charge people for using the core software. While other software causes your CPU usage to increase, resulting in lower frame rate, Discord doesn't allow that to happen. You can invite people securely and easily into your game feed.
You don't have to press "alt+tab" every time you want to see who is talking. This saves you when you're playing first person shooters online like Battlefield, Call of Duty Ghosts or Counter Strike Global Offensive. Plus, the sound quality is clear and you can text with embedded screenshots of the game and all, so what's not to like?
I love to use Discord!
Now we talking about gaming 😉 If you are from Germany like me, and also like to play mobile slots check out, the German online casinos that has them at https://100onlinecasinos.de/mobile  for the rest of you not from Germany i recommend Google Play for Mobile
  Viber
There are a lot of similar apps, but that doesn't mean you shouldn't give them a go. Once you set Viber up, following the confirmation access code, you get access to loads of cool themed stickers, along with free calls and messages that you can send to your address book contacts. It allows free messages and calls to the numbers registered with Viber.
Viber has another service known as Viber out. If you need to contact somebody who doesn't use Viber, you can still communicate with them using Viber Out. The Viber Out service can be used throughout the World to call at extremely low rates. You can install and use Viber on Android, Windows and IOS.
Line Messenger
If you want to be on your laptop or desktop computer and communicate with your friends and family, you can do that easily using Line Messenger. It has all those features that you need, like free chats and stickers as well as video and voice calls. How convenient is it that you can video chat on your computer when you need to with your friends and family?
You have a number of different stickers to help you communicate how you're feeling in group chats. You can share your pictures, videos, voice messages, contacts and location instantly with the person at the other end of the line. Line even has a timeline like Facebook where you can share your personal stores and save your favorite stories from other people. Like something, and want to save it for later? Do that with the keep function on Line Messenger, which stores your favorites separately to share later. If that wasn't enough, you can also get official accounts from your favorite brands, artists and celebs so you don't miss out on the exclusive news and offers they have in store.
Kik Messenger
Chat can be as fun or as boring as you make it and Kik is the perfect embodiment of this statement. You can get in touch with all of your friends via chat and there will be no need to communicate face-to-face unless you meet. You can chat one-on-one with your whole group or with a bot. We'll get to the "chat bot" part in a while.
Kik allows you to chat using only GIFs, Pictures, Emojis and stickers, and even a combination of the 4. If you're the best at expressing yourself through GIFs, Kik is the perfect platform for you.
Now coming onto the "chat bot" part. You may be thinking what good are bots anyway? With Kik, your bots are practically hardwired to be social. If you simply want to chat, play games, get the latest news, get fashion advice and more, Kik's bots will give it to you. The Kik Messenger app is available or Android and iOS.
Imo
Founded by one of the first employees at Google, Imo was founded by Gorge and Ralph Harik. One's the brains and one's the brawn.They only have the best coders, medal holders from the International Informatics Olympiads and ACM ICPC World Finalists. With such a brilliant team behind Imo, the App itself allows you to stay in touch with people from your address book in your phonebook. You even have access from your desktop or MacBook. You can have free voice calls and instant messages.
Imo is considered to be one of the leading applications for video calls and messaging in the world –thanks, in part, to the thoughtful developers behind the app.
Skype
Skype clearly needs no introduction. It was the first app that allowed users to interact face to face. It's been used over the years to conduct interviews and secure many successful jobs. Skype recently amalgamated its contact list to include MSN messenger and Hotmail accounts, so now you can get in touch with those friends of yours who you haven't seen in ages.
Contacts will need to be accepted, however, so you better hope that your friends still remember you and are still eager to hear from you as you are of them. You can chat with text, emojis and stickers on the Skype app. It's available on Windows, Android and iOS.
Wickr
Wickr is best used by those who want to communicate in solidarity and secretly. We're talking business communication. If it's an offshore team that you want to talk to, Wickr's platform will allow you to do that in complete secrecy, and reliably. It is trusted by millions on a global scale.
When you want to make decisions regarding how your company will go forward but don't want your employees to get word of the conversation, you can have only authorized people whom you want in the loop to know. No one else intrudes on your privacy or reveal's your company's secrets when you have Wickr by your side.
Groupme
We are social in one way or the other and we need to have that closure. For only group chats, there's the application called Groupme. Groupme allows you to stay in touch with your family and friends in separate groups. You can easily communicate with your coworkers for daily tasks and with your friends if you want to plan a night out.
You have the ability to share photos and videos that you can later view in a gallery format. You can like the messages that are sent to the group chat, have custom emojis for those times you need to express yourself and share your location so that you can meet up with others. Another amazing thing about Groupme is that you can do it through your default SMS app, even if you don't have the Groupme app installed (through innovative hashtags: only available for US users).
Threema
Threema is a secure communication app that protects your data and your identity online. Your contact lists and groups are managed on your devices and the messages are deleted immediately after you send them. So you have to be careful what you type. This stops the creation of a database filled with your conversations.
A Threema identity is assigned to you and it doesn't need your e-mail address and phone number to function, meaning that you can actually use the app entirely anonymously. Threema even has end-to-end encryption that encrypts everything from calls, messages, files you send to even your statuses. Only you and the person you are sending the messages and files to can read your messages and files. This doesn't mean that you can't have fun on the Threema app. You can even use it on the desktop if you use Threema Web.
Riot.im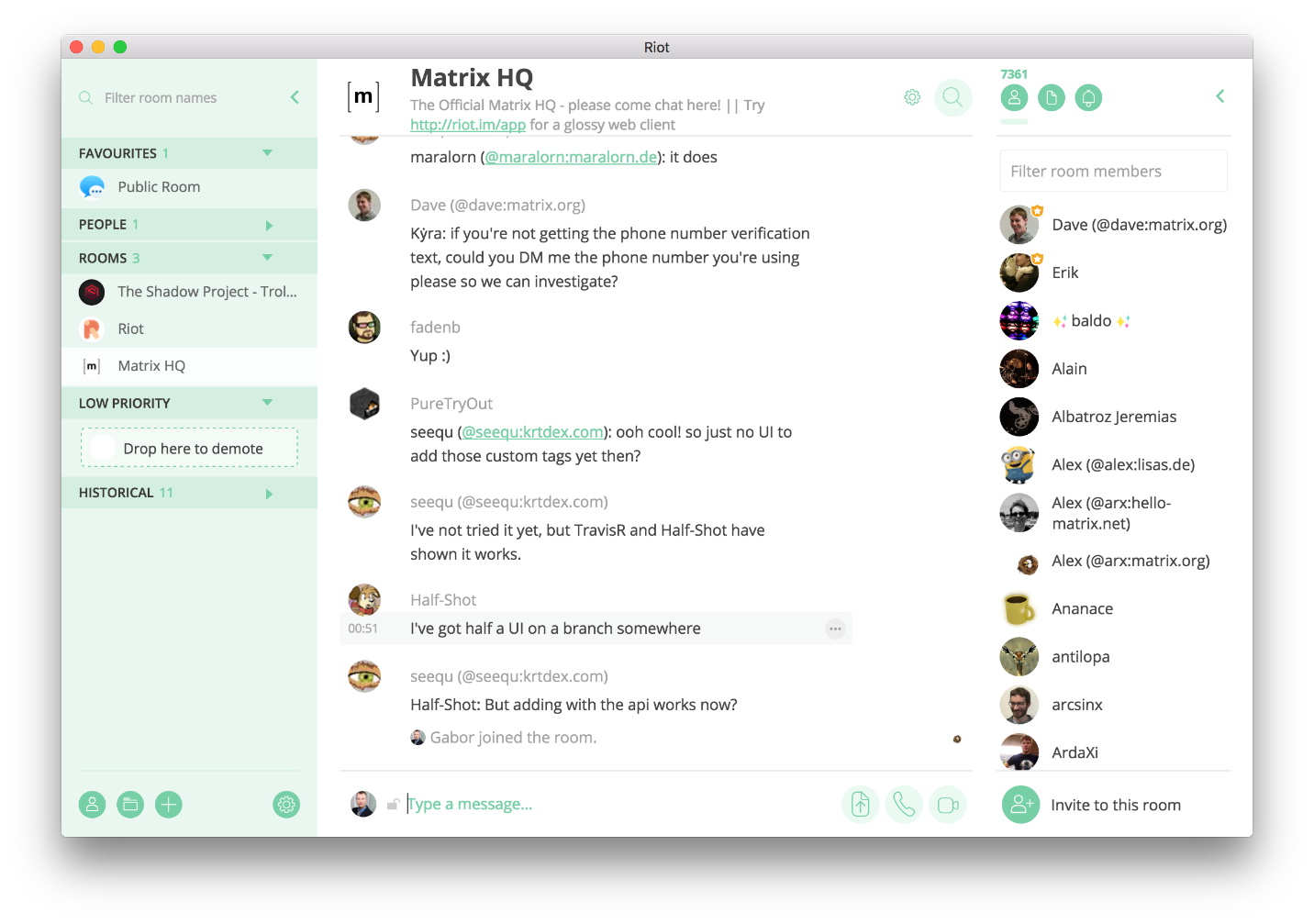 This is the last app on our list, but it isn't to be taken lightly. Riot.im is an app that you can use to communicate between teams at your workplace. You get to decide how transparent you want to be throughout the organization or the project at hand. You can create group chats per project, per team and per topic. Some of the things that Riot.im offers is voice and video conferencing abilities, sharing of important files for the project at hand, greater security and customizable notifications.
What app are you planning to install next? please let us know?